I Got A FRANK Account!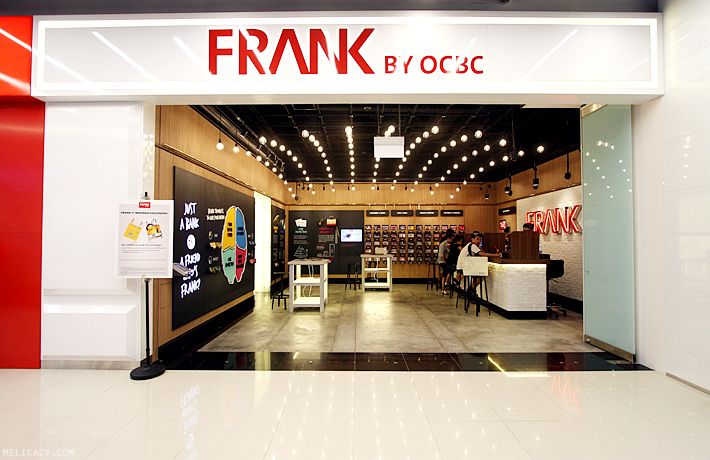 Made a visit down to the FRANK store at Orchard Gateway today as part of an immersion session organized by my course. If you've never heard of FRANK before...it's okay. I've studied in SP for almost 3 years and only realized that FRANK has a branch at Food Court 5.
And I have to ideate a campaign for them for FYP. Heh.
For a lot of you who have never heard of FRANK,
FRANK by OCBC
is a financial literacy programme created for youths aged 16-29 years old. They have 5 branches in Singapore: NTU, SMU, SP, Vivocity and Orchard Gateway. Their Orchard branch is located at at Orchard Gateway basement 1, right in front of Twelve Cupcakes.
When I first entered the store, the first thing that came into my mind was:
HIPSTER sia!
The FRANK store looks like a retro Starbucks Cafe; nothing like the traditional OCBC branch located next to it. The ambience is super Insta-worthy and I honestly wouldn't mind working there if I were a finance student.
FRANK's USP is their combined savings and spending account as well as their customizable card designs. While the hype is usually about their hipster debit cards, I was drawn to FRANK because of their high interest rates (4X higher than other banks) and the fact that there is no minimum balance of deposit needed to create an account.
While I am a DBS user, I use DBS mainly as my spending account. I wanted to open a fixed deposit account for my savings but was really discouraged to find out that it requires a minimum deposit of $1000. Where in the world am I, a 21-year-old broke tertiary student in Singapore going to find this amount of money???
So after sitting through two FRANK talks and traveling half an hour to their branch, I decided to give FRANK a try. No strings attached, right? Oh and did I mention the other attractive benefits you get by registering for a FRANK account which include:


No monthly fees for those 26 years and below
No minimum deposit or minimum balance
A combined savings and spendings account
Over 120 cool debit card designs
A customizable savings jar feature
Interest rates 0.2-0.4% a year
1% rebate when you shop eat at dine at selected online merchants
Shorter queues at OCBC ATMs
You're probably wondering what the savings jar feature is about. Basically, the savings jar is a sub account within your FRANK account that allows you customize your own saving goals and allocate your savings for different purposes. Whether its for a grad trip or a new phone, you can lock away a desired amount in your savings jar to make sure that you don't "accidentally" spend it while swiping away.
I signed up for FRANK with a few of my friends. Their staff, Khairia was very friendly and efficient, and the sign up process was over within 5 minutes. As I was a foreign student, I needed to present my student pass, Malaysian ID and proof of residential address - which I showed them using my DBS e-stament. Hah.
You usually have to pay $10-$20 depending on the card design you choose, but since we went as part of the immersion session we got to sign up for FREE! However, FRANK does have an ongoing promotion: Sign up for FRANK for free
with a friend
and be entitled to 3 free trial classes worth $112.35 at Platinum Yoga.
The hardest part would have to be
choosing the card designs.
There were many designs to choose from and I was spoilt for choice.
I initially wanted to settle for the SP design with the infamous (haunted) red bridge, but my school spirit was put to the test when I set my eyes on the cute pop art designs.
I decided to go with the
I've Got The Power
card because it was blue and...yeah I need that extra power to survive Year 3. Khairia told me that the card will be sent to my house within 1-2 working weeks together with instructions on how to activate the account and sign up for online banking.
And that was it!
I'll be posting again when I've received the card so do stay tuned for more updates in the following weeks. Meanwhile, do check out their cool card designs
here
. I'm sure there's one for everyone!
Love this post? Feel free to share and comment below or check out my start-up review for Vershale here.